We have a total of 1699 contact
Pressure Vessel
(Date Created:07-Feb-2020)
Tunas Asal Sdn Bhd - Pressure Vessel
Tunas Asal Sdn. Bhd. incorporated in 1992, is a company engaged in design and manufacture a wide category of pressure vessels and pipings, heat exchanger, silo, storage tanks, skid mounted, steel structural and installation of vessel or machinery. Our products can be find application in various industries, including oil and gas, petrochemicals, oleochemicals, food & beverages and chemicals industries. Our company is capable of fabricating products in accordance to major international codes or specification in carbon steel or stainless steel. Our annual maximum work load is 3000 tons.



Due to our commitment to client requirements and international design Codes, we have earned our company a lot of orders from local and oversea companies in Middle East, Europe, Japan, Indonesia, Thailand, India, Singapore, Australia and others.

Date Post: 06-Dec-2018
Pages:
pressure vessel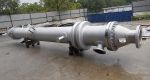 Tunas Asal Sdn Bhd - Pressure Vessel

Visit Website

Send Message
Tel: +606-7990462/63/64
P.T. 16716 & P.T. 16717, JALAN PERMATA 1/7, ARAB-MALAYSIAN INDUSTRIAL PARK, 71800 NILAI, NEGERI SEMBILAN DARUL KHUSUS, MALAYSIA.
malaysia pressure vessel classified - malaysia pressure vessel directory - pressure vessel website listing