We have a total of 1699 contact
Office Furniture
(Date Created:07-Feb-2020)
Wysen Sdn Bhd
With Asian roots and a global outlook, Wysen is a world-recognised leader in the office furniture industry.

Since 1999, under the leadership of managing director Mr. Kenny Low, Wysen has designed and manufactured high quality furniture for large corporations and SME enterprises – namely, office chairs, desks and storage space.

Date Post: 29-Sep-2019
Pages:
office furniture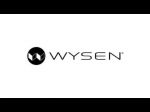 Wysen Sdn Bhd

Visit Website

Send Message
Tel: 603-56236888
11, Jalan BP 4/1, Bandar Bukit Puchong, 47100 Puchong, Selangor Darul Ehsan, Malaysia.
malaysia office furniture classified - malaysia office furniture directory - office furniture website listing