We have a total of 1699 contact
Mobile Phone Accessories And Repairing
(Date Created:07-Feb-2020)
Naveed Rachna Enterprise
Kuala Lumpur's most experienced iPhone Repair experts. Maintain a strategic distance from the long hold up times and high costs that sending your cell phone to the maker with Malaysia's longest exchanging iphone fix specialists.
Professional iPhone Repairs in KL. Our experienced technicians can fix practically any issue you are encountering with any model of iPhone. No appointments are required and for iPhone Screen Repair most substitutions are finished within 30 minutes.
Advantageous areas for the Best iPhone Repair in KL open 7 days per week. For same-day administrations, visit us in Shop or post to us from anyplace in the nation. Quick benefits, reasonable costs and quality work ensured from Malaysia's longest fix iphone Experts. We can fix nearly issue you are encountering and our experts offers the most astounding quality Phone Repair Services Low Yat Plaza in KL, Malaysia.
We are providing following services with our professional experts:
• iphone repair malaysia
• Phone Repair
• iphone screen repair
• iphone battery replacement
• iphone water damage
• iphone not charging
• ipad mini repair
• Mabook Repair Malaysia
• Laptop Repair Malaysia
• iphone Camera Repair
• iphone sound repair
• iphone motherboard repair
For more details, visit https://www.theiphonerepair.com/.


Date Post: 07-Jan-2020
Pages:
mobile phone accessories and repairing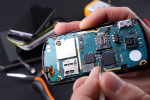 Naveed Rachna Enterprise

Visit Website

Send Message
Tel: +6011-3930-2194
Low Yat Plaza, UG Floor, Lot No:UG- 033, Jalan 1, 77, Bukit Bintang Street, 55100 Kuala Lumpur
malaysia mobile phone accessories and repairing classified - malaysia mobile phone accessories and repairing directory - mobile phone accessories and repairing website listing