We have a total of 1631 contact
Construction Material
(Date Created:22-Aug-2019)
Lalang Resources Sdn Bhd
We are a specialist fabricator of high quality Solid Surface Material in Malaysia. We have provided the best service and offer top quality solid surface material for countertops, kitchen Cabinet & table Top.Our products are included corian solid surface ,samsung staron solid surface and bensonite solid surface.

Date Post: 29-Mar-2019
Pages:
construction material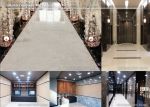 Lalang Resources Sdn Bhd

Visit Website

Send Message
Tel: +60358822946
18-1a, Jalan Bandar 9, Pusat Bandar Puchong, 47100 Puchong, Selangor, Malaysia.
malaysia construction material classified - malaysia construction material directory - construction material website listing